Knitting Patterns: Original Designed Patterns!

Welcome to our interim site! Redesign is coming soon!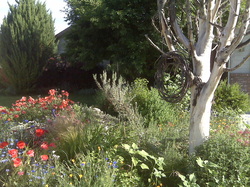 We're up and operating! Add yourself to our Email Alert list on the Contact Page for updates or to just say Hi. We're real excited about our full functioning site that is under construction and will be along soon. In the meantime, here's some info about us. Stay tuned!


Knitting with the birds, butterflies, bees, cats…

In most gardens are grown a variety of things - likewise, in my crafting and hobbies my approach tends to be eclectic.

I arbitrarily participate in Crafts and Hobbies of all types. My current obsession (knitting) is subject to change with the weather, the music that is playing, or some other random act of inspiration.

My garden is one such Muse; I enjoy working out in my yard doing what I like to describe as Haphazard Gardening for the Birds! Others might call it a cottage garden; in any case, I appear to run the neighborhood wildlife refuge!

So, grab a cup of coffee or tea (read: beverage of choice!) and enjoy wandering through my "garden" (and my blog!) Please visit often & see what is growing in my imagination.

GirlFreitag Designs, brand name of American Wildflower Crafts & Design is a knitting pattern source inspired by love and nature.

May all your weeds be wildflowers.

---